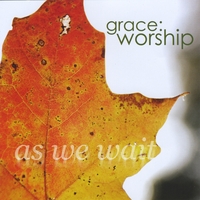 In my journey of faith, I discover how much I fail at worshiping God. He is the only true God. As the Bible states, "You shall have no other gods before me (Exodus 20:3)." He must be THE priority in my life. Most times God is in second place. Rather, I need to make God number one. He must have the pre-eminence!
The Apostle Paul states the same thing in Colossians 1:17, "He is before all things, and in him all things hold together." Nate Mills referred a great illustration of God holding all things together: laminin. I googled it. I found Louie Giglio's explanation of l
aminin
, the protein molecule that acts as a molecular adhesion between cells (6:09 video). Wow! What an amazing God!
God is worthy of worship! He is worthy of my worship.
I love music. One way that I put God in His rightful place in my life is worship in music. I am so proud of our worship leader, Matt Carter. Together with the worship band they put together a worship CD: "As we Wait" Matt is able to offer it online
http://www.cdbaby.com/cd/Graceworship1
. You can get a physical copy through
Wooster Grace
.
The CD liner note says, "...we have the opportunity to worship the one, true God not only with our voices, but with fully surrendered lives. That is a colorful display that directs glor and exaltation to the Creator. It is my prayer that these songs will spur you on towards that kind of worship--Matt." I can grow in full devotion to God by learning these songs and singing these songs spontaneously in the confines of my heart or in the front seat of my car. I can worship in song.
Matt has also shared one "story-behind-the-song" on his
blog
. He chose to write about my favorite song, "Again and Again." If you don't have a copy you can get a physical copy through Wooster Grace or you can download it
here
.