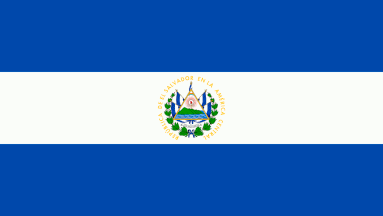 Mandy Isaacson leaves for
El Salvador
(thanks to Flags of the World website for image) for a missions trip over Spring Break with
David & Debbie Hawk
of the
World Gospel Mission
in Jacuapa. From March 27-April 5, the team will serve in many ways, including, but not limited to, conducting a VBS while the children are on "
Semana Santa
,"or Holy Week, helping with construction projects for the
new medical clini
c, and sharing drama, puppet, and music presentations at church gatherings as needed.
Taylor University
expects students to experience the world through service. Their
Spring Break Missions Trips
dovetail with our mission as a church--develop all people into fully devoted followers of Christ in all the nations of the world, to all the nations of the world.
I find it inspiring that students from our church seek to attend schools where the value of reaching out to others and acting in service for others is practiced. May the Lord we serve always get the glory for all we do.
Mandy shared with me the following prayer requests:
"That my heart will be prepared for the trip and I will be sensitive to God's leading
I'm going to a Spanish speaking country and I speak very little Spanish. Please pray that I will be able to connect with the people there despite the language barrier.
That I will contribute to my team in some way.
Thank you for your prayers!
-Mandy Isaacson"
Please join me in praying for her and the team. I would add one more request that I am going to pray for her:
Ask the Lord to bring her home challenged with greater love for God and greater service for God.
You can check out a couple of pictures and a few comments on the host missionaries
blog
.